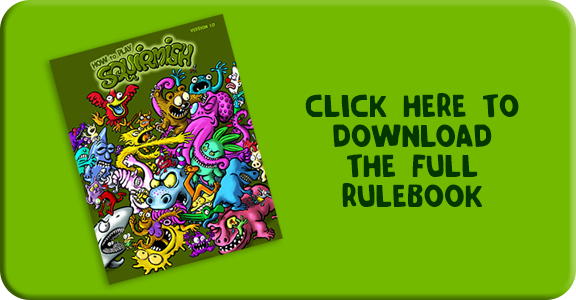 RULE VARIATIONS
Once you have played Squirmish, why not play with Squirmish? Once you've tried out the basic game rules, there are many ways you can change the rules to mix things up and discover new, fun ways to play Squirmish.
SQUIRMISH MARATHON

To increase the length of the game, increase the number of cards needed for victory.
SQUIRMISH RACE

To decrease the length of the game, make it so the first knockout wins!
MULTI-DECK SQUIRMISH
Like deck building? Before the game, you and your opponents take turns picking cards to create your own personal decks to draw from. Pick 30 cards each, each shuffle your own deck to draw from, and discard to a shared discard pile.
SQUIRMISH PIT-FIGHT
Each player picks one random card from the deck and fights them. Players do not have hands, and there is no further drawing or placing of cards. The last card standing wins!
SQUIRMISH RUMBLE
Each player picks three members of a group. Take turns placing the cards into the Squirmish on the table before beginning. Players do not have hands, and there is no further drawing or placing of cards. The last player with at least one card standing wins.
END-OF-TURN CARD DRAWING
Players draw cards at the end of their turn instead of the beginning. A good option for when everyone is still learning about the cards, so there is less delay at the beginning of turns with people reading new cards. (Suggested by Jonathan H. Liu at GeekDad)
TWO-CARD SQUIRMISH
Players can only have two cards in their hand at a time. This makes it so it is easier to make decisions about which cards to place in the Squirmish, which works particularly well for people learning the game. (Suggested by Coby Osborn at The Dice Have It)
Got your own ideas for a Squirmish rule variant? Tell us about it, and it may be added to this page!